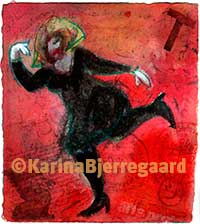 Karina Bjerregaard is a versatile graphic designer, illustrator and visual artist, based at Gimle on Nørrebrogade in Copenhagen.
Mail: k@karinabjerregaard.eu
Cell phone: +45 6086 5600

>I have a large network among photographers, printers, journalists, authors, musicians, speciel effects designers, filmmakers, artists, graphic designers, web designers, illustrators, and other creative people to help solve any challenge.
>And I deliver on time 😉
>See how I make one of my watercolours, while the dancers move and the music plays.
>I have collaborated with (among others):
TV2 – graphic recording
Politiken – illustrations and text about culture, travel, theatre
Børsen – illustrations and text about travel
Danish Union of Journalists – graphic design and illustrations
Boligselskabernes Landsforening –magazine design, illustrations, event painting and art
Copenhagen Institute of Futures Studies – magazine design, translation and proofreading
Holmbladet, Kvarterløft – magazine layout
Danmarks Lærerforening – illustrations
Copenhagen Business School – illustrations
Journalisten – illustrations and ads
Danish Red Cross – illustrations
Herlev Hospital – illustrations
3F – illustrations
FOA – illustrations
HK – illustrations and graphic design
Husets Biograf – film posters and banners
Det jyske Ensemble – illustrations
Danish National Museum – scientific posters
Gentofte Hospital – medical illustrations, medical posters and graphic design
KL – infographics
Læsø Kunstfestival – webmaster (2011-13 and 2016-now), graphic design, maps, and art
Learn2innovate – web graphics and web design
SF Sorø – graphic design and web production
the klezmer band Mazel – watercolour portraits for website
Forlaget Klim – book covers, maps, and book design
Forlaget Vindrose – book covers
Forlaget Fahrenheit – book design
Aller Press – creativity workshops
Copenhagen University Hospital – mural
Roskilde Festival – lounge decoration
>Selected exhibitions:
Solo exhibitions: Galleri Marius, Cph; Mantziusgården, Birkerød; Bell Free Gallery, Cph; Frederikshavns Kunstmuseum; Odense Koncerthus; Arkitektskolen, Århus; Galleri En Face, Kolding; Galleri Rampelys, Silkeborg; Galleri Krydsfelt, Århus; Galerie Magstræde 18, Cph.
Juried exhibitions: KE 1989, Charlottenborg 1989, KS 1988 and 4 in Finland, England, Poland, and Italy.
Group exhibitions in: Denmark, Norway, Sweden, Germany, Holland, England, France, Portugal, Russia, Yugoslavia, Slovakia, Italy, Australia, Canada, and USA.
Murals: the Berlin Wall in 1990/2000/2009 (East-Side-Gallery), a lounge at Roskilde Festival in 2009, Copenhagen University Hospital dep't 5034 in 2010, and private murals in Berlin and Copenhagen.